You've recruited your team.
You've spent months running trails, lifting weights, and eating clean.
You've become an expert at setting up and breaking down camp, and the staff at your local outdoors store knows you by heart.
Ragnar Relay is coming up and the last thing you want to have to worry about is your ride.
We all know the Ragnar Relay is a grueling multi-day physical challenge that pits you and your will against the elements.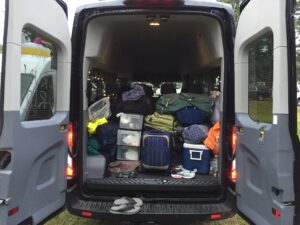 But maybe less talked about is the amount of time you spend with your team in your support vehicle. Driving from leg to leg, resting between legs, even catching a few mid-race zz's. Andas experienced Ragnarians will tell you, you want that part of your race to be as stress-free and comfortable as possible.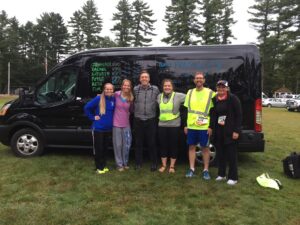 Whether you're an Ultra team or a group of 12, Landbird has the perfect van solution for you. Our brand new, fully loaded 10-, 12-, or 15-passenger vans are easy to drive, comfortable to ride in, and have plenty of room for all your gear.  All our vans have removable seat rows and our customer service team can work with you to configure them in advance, so your van is set up exactly how you need it. Have extra gear? All vans come standard with a Class 3 tow hitch, just in case you need it.

Landbird is proud to be a favorite van rental company for many repeat Ragnar Relay runners. Not only are our vans brand new and meticulously maintained, making them the safest on the road, but we have a long history of working with teams to assist in their logistics with 3-day rental specials, multi-month discounts, and van delivery. Yep, we'll bring your van right to your race or camp! And as with every Landbird van rental, we offer 24/7 roadside assistance.  If anything happens with your van, we will do everything we can to get you a replacement immediately, so you can continue your race without missing a beat.
You've prepared in every way you can, now get out there and race!
Let Landbird take care of the van. It's what we do best.

To learn more about the Ragnar team races happening in New England check out the links for the 2021 events below.
Check out our high roof vans for your race!