New Hope and Shad Fest
Clocking in at just around an hour from Philadelphia, the sister river towns of Lambertville, NJ and New Hope, PA form an eclectic community with a vibrant local art scene, top-notch restaurants, and charming riverside bed and breakfasts. On any given weekend, it's a top 10 getaway with friends or family.
But once a year it becomes a must-visit destination – when Shad Fest takes over downtown Lambertville.
Wait, Who or What is a Shad??
The American Shad is the largest fish in the herring family. Every Spring, they migrate from the ocean to fresh water to reproduce in what fisherman call "the shad run" and the Delaware river is chock full of them.
Shad Fest began as a way to use the abundance of fish to highlight the local art scene – with an entire street festival built around the annual harvest – and has since grown into a multi-day arts, crafts, music, and food bonanza with a cult following.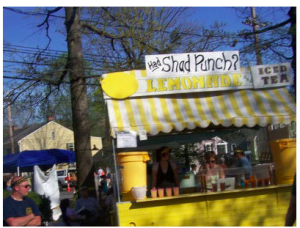 Shad fritters, shad sandwiches, smoked shad, shad-on-a-stick, even shad punch are some of the ways you can try the main ingredient, but even if fish isn't your thing, there's a ton to see, eat, and do. Local artists are on full display with everything from posters to jewelry to furniture. Local bands are playing street-side throughout the weekend. And with plenty of ways for kids to join the fun, including an entire "make your own crafts" area, you'll definitely want to bring the whole family. Just don't forget to get your official Shad Fest t-shirt before you leave!
Travel Together in Comfort and Style
Why bring more than one car when you can all travel together in brand new Landbird van? Our vehicles are brand new and fully loaded, incredibly comfortable, and backed with a 24/7 roadside service guarantee.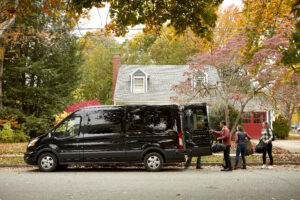 So go ahead! Gather your family, your friends, and your family's friends and make the journey part of the experience. Crank the volume on our state-of-the-art sound system and have your own karaoke carpool. (Everyone sounds better with the windows rolled down.) Or try some classic road trip games like Never Have I Ever, Two Truths and a Lie, or the Alphabet Game – the kids will be having too much fun to ask "Are we there yet?" even once!
Details
What: Shad Fest 2021
When: October 9-10, 2021
Where: Lambertville, NJWhat: Shad Fest 2021
Website: https://www.shadfest.com/
Ready to book your van or SUV for Shad Fest?
About Landbird:
Landbird rents brand new, fully loaded passenger vans and SUVs throughout the Northeast to a wide range of customers, from friends and family on vacation to businesses, church groups, bands on tour, sports teams, bridal parties and more. Our dedication to high-quality, high-value auto rental has remained unchanged, along with our dedicated customer service and our unwavering attention to the needs of our customers.