Visiting Colleges in Style
The weather is getting warmer, the cherry blossoms are blooming – it's time to start thinking about getting out of the house and visiting some college campuses. Whether you live in the area or are coming from afar, Landbird's brand new fleet of vans and SUVs can help take the stress out of travel and make the driving fun. Group up with friends who are interested in the same schools and enjoy the scenery from the comfort of our individually contoured seats.
If you're looking for that traditional campus vibe, but want the benefits of being in a major city – one of these five schools just might be for you.  And if not – well – at least you enjoyed the ride.
Georgetown University – Washington, DC
Arguably the most well-known campus in Washington, DC, Georgetown is a throwback to the architectural days of colonial times with Georgian-era buildings and quaint brick sidewalks. From the Leavey Esplanade, with its wide-open lawns to the Heyden Observatory, surrounded by beautiful gardens and ponds, to the bustling city life of DC – Georgetown manages to create a true campus feel in the heart of DC. Be sure to visit in the early spring to catch the cherry blossom trees in full bloom!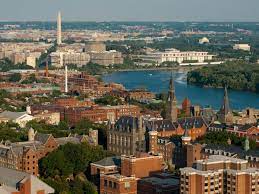 Howard University – Washington DC
Before you leave DC proper, you might want to check out Howard University, spanning 256 acres of land from DC to Maryland. In addition to being one of the nation's leading HBCUs, Howard's wide open greens and high elevation gives it spectacular views of downtown DC. The campus boasts several buildings listed as National Historical Landmarks, including the famous Founders Library with it's clock tower that's visible throughout the city.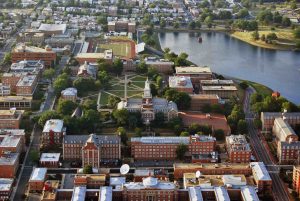 University of Maryland – College Park, MD
With nearly a third of its 1250-acre campus covered in trees, University of Maryland is filled with Georgian architecture – red-brick buildings, open plazas, tree-covered bike and running trails – there's even an 18-hole golf course! Maryland's lush campus was designated as a Botanical Garden in 2008, so you'll want to be sure to spend plenty of time on foot. When you tour the gardens, don't miss the Jim Henson Memorial, designed by landscape artist Philip Cho. The statue of Jim with Kermit the Frog is the perfect photo opportunity!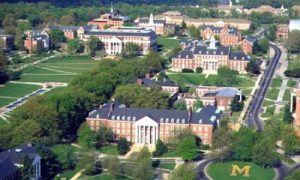 Loyola University Maryland – Baltimore, MD
Another small campus in a big city, Loyola University Maryland is the perfect blend of intricate gothic architecture combined with modern buildings. Don't miss the stunning stained glass windows of the Alumni Memorial Chapel or the Tudor-inspired Humanities Center, built in 1896. Just 79 acres in the heart of Baltimore, Loyola is a small, tight-knit community surrounded by Evergreen forests.

University of Pennsylvania
Located just over the river from downtown Philadelphia, Penn (as it's called by students) is a traditional "small college" campus surrounded by a fun and vibrant city. Strolling down its brick tree-lined Locust Walk surrounded by the classic gothic buildings that define the Ivy League schools, you forget that you're minutes away from the hustle and bustle of Philadelphia life. Escape the city altogether in the campus Arboretum – roughly 300 acres of urban forest with over 200 species of trees and shrubs. And when you're done exploring the school, head over the bridge and experience all that Philadelphia has to offer.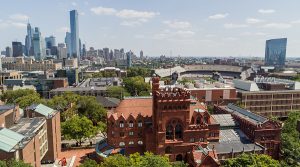 Landbird Gets You Move-In Ready
Congratulations! You decided on a school and you've been accepted. Now comes the challenge of planning for move-in. Don't stress about space when you rent a Landbird van – our passenger vans have seating for your whole family and plenty of cargo room for your entire closet, plus your stereo and electronics, your sports equipment, and even those stuffed animals you just can't bear to leave behind. So pile in, bring everyone along, and have one last family road trip before you head out on your own.
Have a friend going to the same school? Why not travel together? Landbird has a van for every size family and group. Your anticipation will only build as you excitedly chat about everything you're going to do and see when you arrive.
At Landbird, we believe everything is better together. Let us help you make the journey part of the destination.
Ready to visit some colleges in your Landbird van or SUV?