The Perfect Landbird Van Rental Guide
You know where you're going and who you're going with. You know when you want to leave, when you hope to arrive, and how much time you have to explore along the way.
Now all you need is the perfect ride.
Landbird's brand new fleet of passenger vans and SUVs can accommodate you, no matter how many people you're traveling with or how far you're going. Every one of our vehicles comes standard with all the safety features you need, like backup cameras and alarms, blind spot and lane keeping alerts, tire pressure monitoring, and child seat anchors.
Our vehicles also have the fun stuff, like an LCD screen with onboard GPS, Sirius XM® Radio, and both 110v and USB power outlets throughout. Because if you have to drive, you'd might as well enjoy the ride.
So how do you choose which Landbird van rental or SUV rental is right for you?
It comes down to how many people you're traveling with, how much gear you all have, and the overall configuration of your group.
Choosing A Rental Van Big Enough For The Whole Crew
We make it easy by placing the number of passengers each vehicle can accommodate (including the driver) right in the title. And in most cases, that also includes their luggage (with some exceptions, but we'll get to that in a minute.)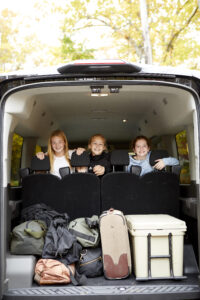 So if you're a group of 10 with a standard amount of luggage, you will comfortably fit in our 10-passenger mid-roof van. And by the way, when we say comfortably, we mean it. Our seats are individually contoured and feature a slight recline, so your seat is your space, and nobody else's.
How Much Gear Can Each Van Handle?
If you're a group of 15 with a standard amount of luggage, you will not fit in our 15-passenger van rental either low-roof or mid-roof vans. The inside space in those vehicles is completely taken up by seats, and is best suited for a group who will only need their personal belongings, like a purse or small bag. Our 15-passenger high-roof extended van can accommodate luggage.
But let's say you have not only luggage, but camping or sporting gear as well. Maybe you're headed up to the mountains with your friends, their skis, and a couple of coolers. You may want to go a little bigger and use the extra room for gear. Every van has removable seats and/or rows that can be configured in advance to give you the extra space you need. Just reach out to our Customer Service team and they'll be happy to help you figure out what configuration you need.
Want Examples?
A bike tour group adapted a 15-passenger van rental into a 11-passenger van in order to comfortably travel with 10 people and bikes.
Ragnar Reach the Beach racers use 15-passenger van rentals for teams of 6 so that seat rows can be used as beds to catch some zzz's at checkpoint stops.
Vacation travelers have removed all rows from a 10-passenger van rental to accomodate gear and an inflatable mattress for a make-shift camper.
Travelers with limited mobility have been assisted by removing the front row of seats in order to more easily enter and exit the van.
Have A Little Extra Room?
If you have even more gear than that, our vans all come standard with a Class 4 tow hitch which can be used with a personally owned trailer covered by personal insurance. Rental trailers are not permitted. Use of the tow hitch must be approved in advance. Please contact our Customer Service team to discuss towing options.
From day trips to weekend getaways, from relay races to hockey teams — Landbird has a van configuration for you.
You've got your journey.
You've got your crew.
Now get your van.
Ready to Start Your Journey?