Why Not Vermont?
The days are getting warmer, travel restrictions are lifting, and we just know you're itching to get out, stretch your legs, and reconnect with family and friends after this long winter. Whether you're from New England, or you're meeting up from around the country, there's no better escape in the heat of summer than the cool forests and clear lakes of Vermont. Known for its green mountains, meandering tree-lined roads, and quaint towns with adorable bed and breakfasts, Vermont is picturesque beauty at its most accessible. 
Start your journey with one of Landbird's brand new, fully loaded, and super comfy passenger vans – everyone riding together makes it that much more fun. With all the space our vans offer, you can bring your camping gear, your bikes, even your standup paddle board!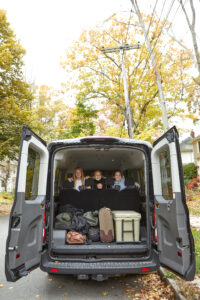 Lake Champlain – the "sixth Great Lake"
Perhaps Vermont's best known summer destination is Lake Champlain.  Nestled between the Green Mountains of Vermont and the Adirondack Mountains of New York, its 587 miles of shoreline has something for everyone.  Bikers will find some of the most scenic cycling routes in the country in the Lake Champlain Bikeways, while canoers and kayakers will love exploring the Lake Champlain Paddlers' Trail. The lake is even a haven for sailing and windsurfing. Just make sure you have your camera at the ready in case you catch a glimpse of "Champ" – the Lake Champlain monster!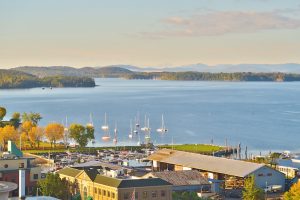 Burlington – The Queen City
No visit to Vermont is complete without spending the day in her largest city – Burlington. On the shores of Lake Champlain, Burlington is a hub of shopping, dining, and spectacular sunsets over the lake and the Adirondacks. Start by wandering down Church Street – a brick, pedestrian-only walkway filled with cafes, local artists, street entertainers, and eclectic boutiques. Restaurants and cafes spill out into the street with beautiful outdoor dining areas to relax in and grab a bite while you soak in the vibrant community. Make sure you try one (or more!) of Vermont's famous local craft beers and ciders on offer almost everywhere from breweries like The Alchemist, Lawson's Finest Liquids, or Citizen Cider.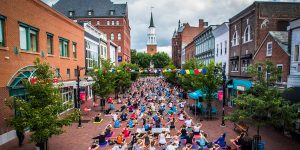 Stowe – Camping, Hiking, and Ben & Jerry's
Although it may be best known for its winter skiing, Stowe is secretly a magical summer destination for outdoor adventures. With everything from treetop ropes courses to fly fishing to bike tours to a gondola all the way up Mount Mansfield, Stowe has something for everyone. Visit the world-famous Trapp Family Lodge (yes, that Trapp family) and explore the 2500 acres of trails before you head into the Von Trapp Brewery for a full Austrian experience. And you will not want to miss the Ben & Jerry's Factory in nearby Waterbury, with factory tours, scoop shop, and even a flavor graveyard!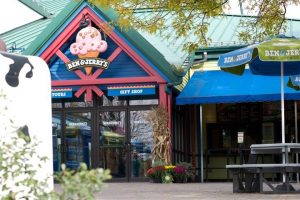 Ready to book your van or SUV rental in Vermont?
About Landbird:
Landbird rents brand new, fully loaded passenger vans and SUVs throughout the Northeast to a wide range of customers, from friends and family on vacation to businesses, church groups, bands on tour, sports teams, bridal parties and more. Our dedication to high-quality, high-value auto rental has remained unchanged, along with our dedicated customer service and our unwavering attention to the needs of our customers.